Welcome to Silver River Center For Chair Caning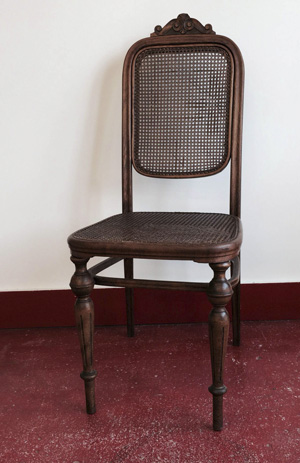 We are located at CURVE Studios & Garden in the River Arts District of Asheville, NC with FREE parking on-site.
The nation's only chair caning school & museum is operated by Brandy Clements & Dave Klingler, two chair nerds on a mission to dispel the myth that chair caning is a "dying art."
All restoration fees, class fees, and chair nerd t-shirt sales help keep the chair caning museum FREE for the education of the masses. Thanks for your support.
We are honored to be on the Atlas Obscura site, where you can discover hidden wonders in 168 countries and 1,234 cities across the world!
*warning: you might become a Chair Nerd*
Take classes, from short 3-hour workshops to day-long, week-long, and 2-week intensives.
See daily demonstrations and take a self-guided tour of our museum.
Bring your family heirloom in for restoration.
Donate your woven chair for student practice.
Purchase restored chairs in our chair shop.
After 30 years of doing all our seat weaving in house, it has been a great pleasure to be able to put that task in the competent hands of David and Brandy at Silver River. Our chairs go to some of America's top connoisseurs of seating, so we can't farm anything out without great confidence in the hands we entrust our work to. Brandy and Dave have not only been very professional in handling our orders, they have done perfect work every time. Silver River has taken the worry out of our weaving.— Brian Boggs (Brian Boggs Chairmakers)
Dave Klinger and Brandy Clements of Silver River Center of Chair Caning are two of the most passionate and energetic people I have ever met in any industry. They have the ability, patience and knowledge to assimilate with both the novice weaver or the highly experienced craftsman. Two of the most talented weavers, businessmen, organizers and genuine people in the Chair Seat Weaving Industry. It will be no surprise to me to watch the Silver River Center of Chair Caning succeed and flourish for many decades to come.— Ray DeFrancesco, President HH Perkins Co.
---