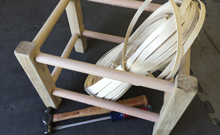 Learn to weave with Fiber/Paper Rush or Splint Reed on a small footstool kit (provided) or bring your own small footstool that is exactly square or rectangular.
Class Size: 1-5 people
Class Length: Approximately 4 hours by appointment.
Cost: Includes four hours of instruction, footstool frame, and all tools/materials needed to complete the project.
After the class: Your lovely footstool should be sealed with shellac to protect it from spills and stains. This is ideally done the next day after the weave has dried completely.  We can do this for you the next day or we can give you simple instructions on how to do it yourself.
IMPORTANT: Please read through our Workshop FAQs.