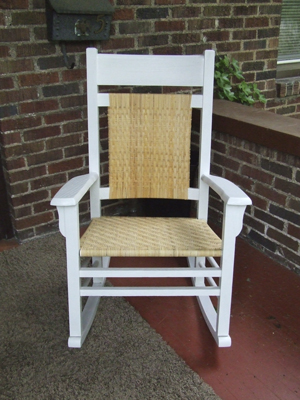 Learn to repair rocking chairs that have a woven seat and back.
*** Strong muscles and a good back are necessary to take this class! ***
You must be able to turn your big heavy rocker over with every row of cane during the weaving process.
Cost: $40/hour.
Materials: Students must buy their own material for the class.  We are glad to help you decide on and purchase materials.
Many porch rockers are woven with binder cane, a rounded material about ¼ inch wide. Binder cane is hard to work with because it is rough on your fingers and your muscles, especially when you are nearing the end of the seat. Weaving an average porch rocker using this material could take 15-20 hours for the seat and 10-15 hours for the back.
Rocking chairs with woven seats and back can be repaired with splint reed, binder cane, rush, or shaker tape. Wider splint reed, rush, or shaker tape will take half the time to restore than binder cane. Rocking chairs with woven seats and backs look GREAT with shaker tape!
Suggested Tutorial Sessions:
Tutorial 1: Set up/starting your weave, adjusting and splicing. (2 hours)
Homework: Weave most of your seat on your own schedule.
Tutorial 2: Finishing your seat starting the back (2-3 hours)
Homework: Finish Weaving the Back
Special Considerations:
Tutorials progress at their own pace depending on the chair and the weaver. The number/length of sessions can be adjusted to fit each student's needs.
Weaving with binder cane is very difficult, especially when you get toward the end. Every inch is a victory!
Despite the fact that these rockers are marketed as "porch rockers," any exposure to the elements will lessen the life of your chair.