CANCELLED!

Whisk Broom Making
3-Day Whisked Away Weekend.
Will be rescheduled for sometime in 2021
Be prepared to get swept up in a new fiber weaving direction: historic Broom Making with Mark Hendry of Blue Ridge, GA.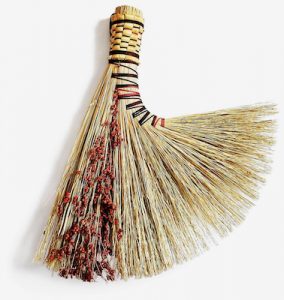 You'll be whisked away for a wonderful 3-day weekend, learning to craft various styles of stunning handmade whisk brooms with Mark Hendry of Mountain Heritage Craft.
You will learn the historic handcraft of making brooms sans machinery, as it was done in the 18th century.
Each day students will explore fun, functional & highly decorative whisk designs, plaiting techniques, ways of adding color and at least 4 different construction methods and styles, culminating in a hearty cache of whisks to take home, along with the know-how to create more on your own.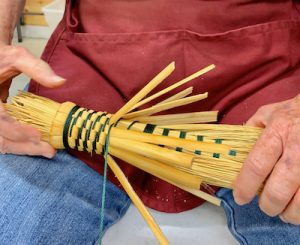 These highly useful beautiful gems of the sweeper world make fantastic gifts, as well as being very fun and satisfying to make.
All levels welcome. Some hand strength required.
$245 payable online 
+$50 tool rental & materials fee payable to Mark at the class. 
Class size 6-8 students.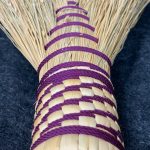 Follow Mark Hendry aka MH Crafted on Facebook and Instagram
Email SilverRiverChairs@gmail.com for more information on the class or contact Mark at mail@MHcrafted.com for more information on brooms and baskets.
Here is a bit more about Mark:
When I follow my bliss, it always leads me to The Great Outdoors. In Nature, I find the inspiration, materials and a state of well-being; all of which coalesce into the creation of my Art. Living in the Appalachian Mountains, I'm surrounded by a rich history of time-honored traditions and a legacy of handcraft. To me, historic handcrafts embolden a greater simplicity and a deeper connection to Nature, so I naturally gravitate to the olde-tymey way of doing things.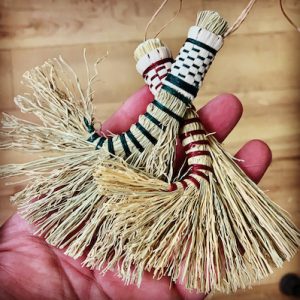 For me, "Art is Life", so I strive to use sustainable, renewable resources, and materials that are "alive". I work in tandem with Mother Nature, collaborating respectfully in the creation of our work; acknowledging the divine intelligence in all things, and revealing our oneness with the Earth and with each other.
Stay tuned for Level 2 classes at Silver River in Jan/Feb 2021!