Our waitlist is currently closed until 2024.
We are primarily a school and museum and restorations happen as we can get to them. We can only take in chairs that match our education goals. We are working on creating online courses, shooting videos and are accepting the following chairs:
Danish Cord & Mid-Century Chairs
Shaker Tape
Advanced Chair Caning (different patterns, blind caning, medallion backs, curved panels)
Restorations take a toll on our time & bodies, so we can only work on them as we have a break in the filming/editing process or if they can support the projects we are working on.
Thanks for understanding.
GETTING AN ESTIMATE: 
1. See drop-down tabs below to figure out your own estimate
2. Email pictures of your chair to silverriverchairs@gmail.com for general estimates.
Please show front, back, sides, & underneath and send in ONE email.
Include size of seat for machine cane, splint, rush, Shaker tape, and bark seats.
For laced cane seats, count # holes drilled into wooden seat frame and include in email.
Prices are general estimates and may change after a close inspection in the person. Occasionally your chair may require additional work which we won't notice until we remove the old seat.
Prices include cash or check discount of 3%. We have to add 7% sales tax to each order, sorry, not our rule.
See our policies & procedure page for information on additional fees that you may incur.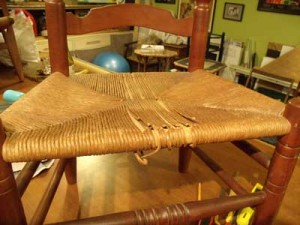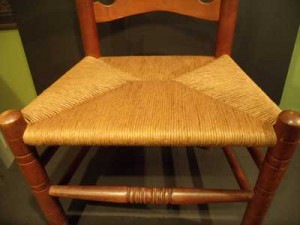 How do I know if my chair is natural or fiber rush? Turn the chair over. Is the rush cord of uniform size and the same on the top and bottom? It's paper rush. Often rush breaks are clean cut and do not shed grassy fibers. Cats often like to sharpen their claws on this type of chair! $250+ for seat repairs.
See below for natural rush indicators.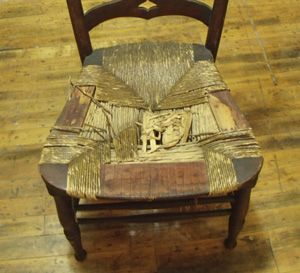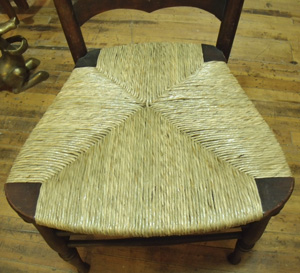 Natural rush seats for a regular trapezoidal shape on the chair frame is $350. Removeable frames, can be a little more depending on their condition/shape, etc. Windsor chairs have to be disassembled and reassembled to restore seat. Chairs with wooden skirts that have to be removed and reattached are also more costly repairs. They are $350 for the seat and another $100 for deconstruction/reconstruction/color touch up.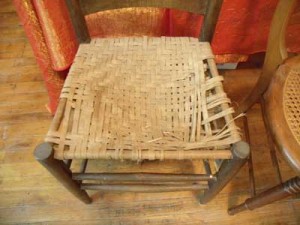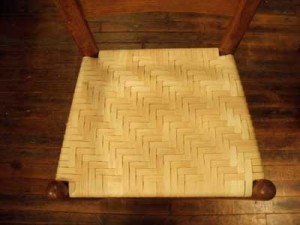 1/2-inch wide or larger reed: A basic repair of 17 inches across the front rail is about $200.
Less than 1/2 inch wide reed: half the size=twice the time….$400.
Big porch rockers: It takes about 40-60 hours to weave a porch rocker and they are usually very heavy and require awkward body positioning to weave. $750-$800 for seat and back.
Kennedy Rocker Replacement: replacement parts for seats and backs are available at the Kennedy Rocker website. The seat is easy, the back requires sawing, cleaning out joints, knocking the whole chair apart. $400 if we do both.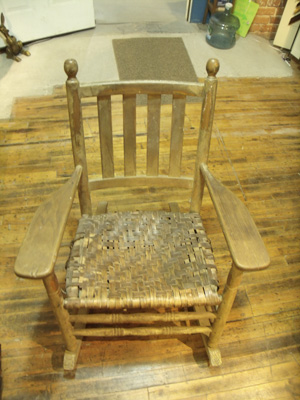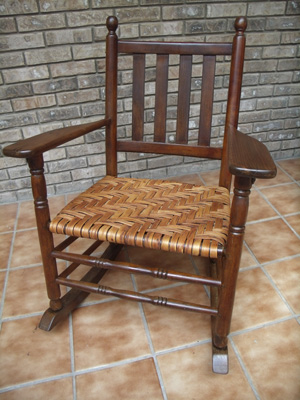 Priced According to the chair's specifics…approx $350-$400 for a regular seat. Hickory bark is only available once a year in early summer when the trees are ready for harvesting.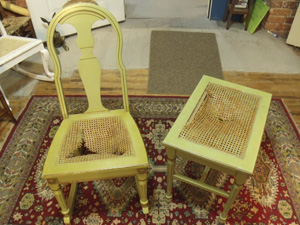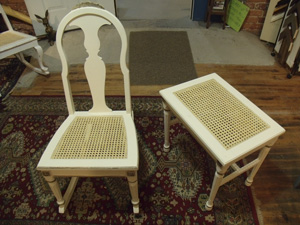 The wooden spline is the key…Imagine your chair seat or back as a picture frame with the cane as the picture. Look at the edge of the cane panel. If your chair has a groove with a long slender piece of wood surrounding the cane panel it is machine-woven cane. An average seat can range from $100-$170. A panel on the back of the chair is generally $200+.
Unusual weaves/patterns/shapes will require on-site pricing. Medallion panels cost about $250-$300.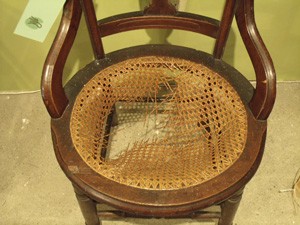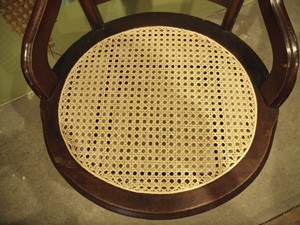 These chairs take an average of 20-40 hours to weave, so about
Basic Repair with 74 holes about $350
Round Seats with less than 100 holes or chairs with very small cane, about $400
How to tell if it is hand woven or machine cane:
1. Look underneath the seat or on the back of the back. If you can see loops of cane where cane has been woven through holes drilled into the wooden frame, then you have a laced cane chair. Now look at the top of the seat/front of the back (read #2).
2. Look where the cane meets the seat on top. If it is a laced cane chair, there will be a wider piece of cane that has been sewn onto the seat frame with loops of cane.
Important Note for Special Hand Woven Chairs:
Curved backs like Lincoln Rockers are a more involved repair and may cost $450-$500. Often structural work is needed prior to weaving. Cost varies to degree of work required, $40-$100
Blind Cane & French Chairs….You got a good deal on it because it needs an expensive repair. Sometimes these chairs will surprise you by ending up being an extremely complicated project that takes 6 months or more.
More involved repair with medallions, shared seams or double paneled arms: time & materials
See bottom of page for definition of "More Involved Repairs."
Basic Danish Cord chairs have squared seats with nails lining the perimeter of the inside underneath. Folding chairs, split rail chairs, and chairs with slots are not basic. Due to the wide range of chair styles the range for repairs can vary from $250-$350.
Generally you can expect $250-$350 for an average seat. Additional fee of $25 if you need new nails, most often we can re-use the nails. More involved Mid-Century Modern Chairs (you know who you are!) will require on site estimates and are charged time & materials. Danish Cord in Rush style like Wegner's Wishbone or J-16 Rocker is $400. Danish chairs with binder cane priced on-site.
Below are some examples of Danish Cord chairs we have worked on.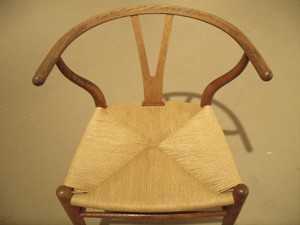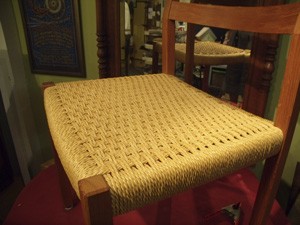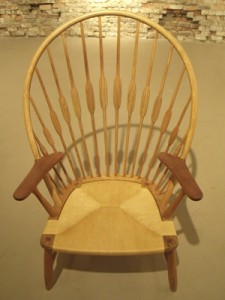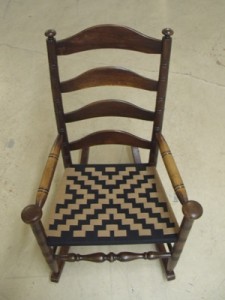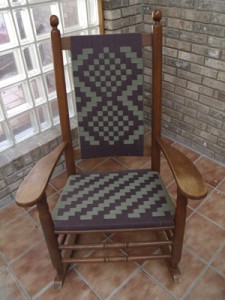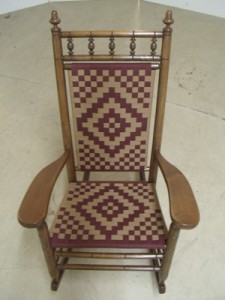 Available in two sizes & several colors:
1 inch wide straps: 1 0r 2 colors are generally $170 for a 17 inch chair. Additional colors (3+) add $20/extra color (requires a lot of sewing time)
5/8 inch wide straps: 1 or 2 colors (requires just a little more material/time) = $200
COLORS: We can show you examples in the studio, on line, or you can swing by Earth Guild on Patton Ave and pick out your own. If you purchase your own tape, we will deduct the cost of the material from the weaving fee. You should also buy thread to match.