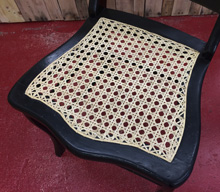 Class Length: 5 Sessions 
Yes, it will take all 5 days.
Moderate hand strength required
Cost: Includes appropriately sized cane, 35 hours of instruction, and all tools and materials necessary to complete the project.
BYOC: Bring your own chair or we can provide one for you for $40-$60 depending on the style/amount of work involved in refurbishing.
Before Class:  At least a week before class we need to get a photo of your chair (text or email us) or inspect it in person (make an appointment to bring your chair in) for structural issues.
Chairs not ideal for your first class: 
ROUND CHAIRS! Common but not great for your first project
chairs with curved back/seat are not ideal but easier than round chairs
recessed holes underneath like Bentwood chairs
chairs with over 100 holes
holes that do not go all the way through the frame or share a seam with other panels of cane
chairs that have a frame which must be removed from the rest of the chair in order to weave
IMPORTANT: Please read through our Workshop FAQs.
Choosing a Chair for Laced Caning Class