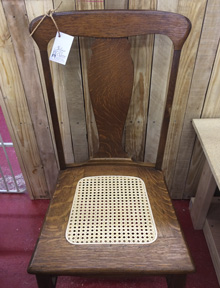 Class size: 1-3 people
Class Length: Approximately 4 hours
Cost: Includes machine-woven cane, spline, four hours of instruction, and all tools and materials necessary to complete the project.
BYOC: Bring your own chair with a cleaned out seat groove….or we can provide one for you at $10-$40 depending on the chair
Try our new Machine Cane Low-Cost Introductory Workshop Saturday, August 19. 10am-1pm $50
---
Removal of old cane should be done before class.
Please take Machine Cane 101: Seat Removal if you require our help removing the old material.
Or we can do it for you at $40.  Call for an appointment a week before class.
If you remove the old seat on your own, please make sure to keep an even groove so that the new seat will last longer.
IMPORTANT: Please read through our Workshop FAQs.