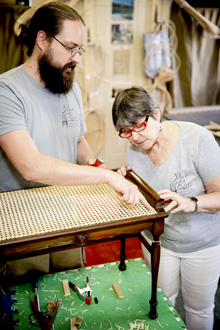 Silver River Center for Chair Caning encourages everyone to learn to repair their own chairs.
Whether you want to fix a family heirloom or you are a furniture restorer wanting to expand your skills, we offer many levels of classes.
WE ARE VERY EXCITED TO BE AN OFFICIAL EDUCATION CENTER OF THE SOUTHERN HIGHLAND CRAFT GUILD!
4 Class Styles:
LOW-COST WORKSHOPS: $50/person. Limit 6 people.
PAPER RUSH WEAVING: Saturday, May 5, 2018. 11am-2pm.
LACED CANING: Saturday, May 19, 2018. 11am-2pm.
To register, call
828-707-4553 or
email SilverRiverChairs@gmail.com.
ALL-DAY CLASSES:
Learn Splint, Rush, Shaker tape, Laced Caning, and Pressed Caning in a structured class where you will finish a chair project. Bring your own chairs, or we can provide them for you for a nominal fee. Tuition includes all tools and materials, after-class assistance with future projects and $25 off future classes.
Click the chair caning class you'd like to explore:
BOOT CAMP:
Get the 5-class package save $150. Great for beginners and for intermediate caners looking to perfect their skills. You are welcome to attend the following classes individually without registering for the entire two weeks.
NEXT BOOT CAMP 2 WEEK INTENSIVE April 16-20, & 23-27, 2018 
Monday, April 16:  Pressed caning removal & installation. 10am-3pm.
Tuesday, April 17: Rush weaving with paper fiber rush. 10am-6pm.
Wednesday, April 18: Splint weaving. 10am-4pm.
Thursday, April 19: Shaker tape weaving. 10am-2pm.
Friday, April 20: Finishing uncompleted work, sealing rush & splint, additional practice 10am.
Monday, April 23-Friday, April 27: Hand-woven/Laced Caning. 10am-5pm each day.
Tutorials & Community Weaving Sessions
NEW! Community Weaving Sessions for laced caning & rush weaving are a donation based independent study. Bring your chair and materials, use our shop and our years of experience. Suggested donation $20-$40. Call to schedule: 828-707-4553.
    OR….
Schedule a tutorial in 1-hour increments for a little more help with your project, or if your chair exceeds the scope of our classes. Examples include: Porch Rockers, Danish Cord, Binder Cane, Hickory Bark. Tutorials are $40/hour by appointment only. Call 828-707-4553 to schedule.
---
IMPORTANT:
Chair caning is physically demanding work. If you are injured, please let us repair your chair for you. Wait until injuries have healed before taking a chair caning class.
---
Workshop FAQ's
READ THIS! Important information for ALL CLASSES follows:
Parking is available in 3 spaces in front of the garden. Street parking is close-by.
If you don't have a chair, we can pick one up for you for $10-$40, depending on the chair. Please let us know when you sign up so we can find a chair.
Some chairs can't be TOTALLY finished in a day…Rush and Splint chairs must dry over night and then get a shellac coating to protect them from stains. We can do this for you, we can send you home with instructions, or you can come back in the next day to shellac your chair. It will only take about an hour which includes enough time for the shellac to dry enough for you to take the chair home.
A signed waiver is required for participation in any of our workshops.
If you have financial need and are willing to work for us for trade of class cost, we will consider based on each situation.