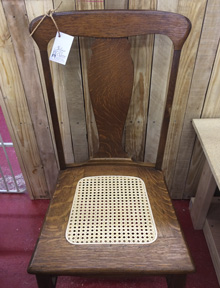 Class size: 1-3 people
Class Length: Approximately 4 hours
Cost: Includes machine-woven cane, spline, four hours of instruction, and all tools and materials necessary to complete the project.
BYOC: Bring your own chair with a cleaned out seat groove….or we can provide one for you at $10-$40 depending on the chair
Look out for 2018 dates for our new Machine Cane Low-Cost Introductory Workshop.  $50. We provide all tools, materials, chairs, and 3 hours instruction.
---
Removal of old cane should be done before class.
We can do it for you at $40.  Call for an appointment a week before class. In many cases machine cane removal can be done the same day as the installation class, but chairs can be tricky, so advance removal is strongly recommended.
If you remove the old seat on your own, please make sure to keep an even groove so that the new seat will last longer.
IMPORTANT: Please read through our Workshop FAQs.