Why is authentic bark so much more expensive than manufactured reed?
The Short Answer: Authentic bark is time consuming, back breaking, and potentially hand mangling work.
Reed comes from China, and as we all know, that means you don't pay the real value of the product, the fossil fuel it takes to get here, etc….but it is easier on the wallet and looks good too. Authentic bark, despite its difficulty to harvest, is stronger and more beautiful. Local chair maker Brian Boggs has come up with a way to make this process a little more efficient:
The Leviathan. (Insert movie-like "duh duh duuuuh" sound effect)
Imagine a machine as tall as you, spinning 5 inch circular blades…some facing you which will cut the bark strips lengthwise, some arranged on top of each other like a snowman, spinning and trimming the rough bark off the strips for a smooth, shaved 1 inch strip of hickory bark.  A motor spins the perfect strips around a reel like a movie projector and there you have it. (1 inch is an approximate measure when you are working with authentic bark, part of it's charm is obviously its irregularity, its lines following the grain harmoniously as only nature can produce, not a uniformly shaped reed mass produced in China.)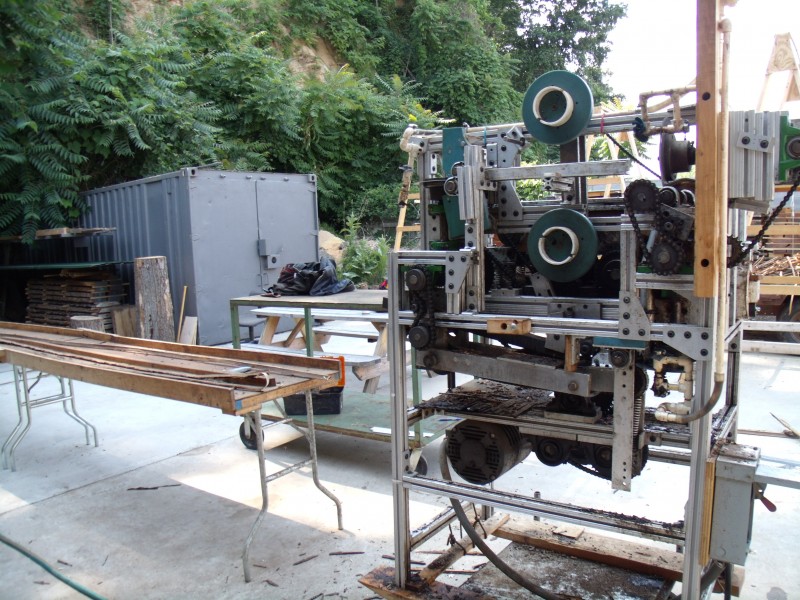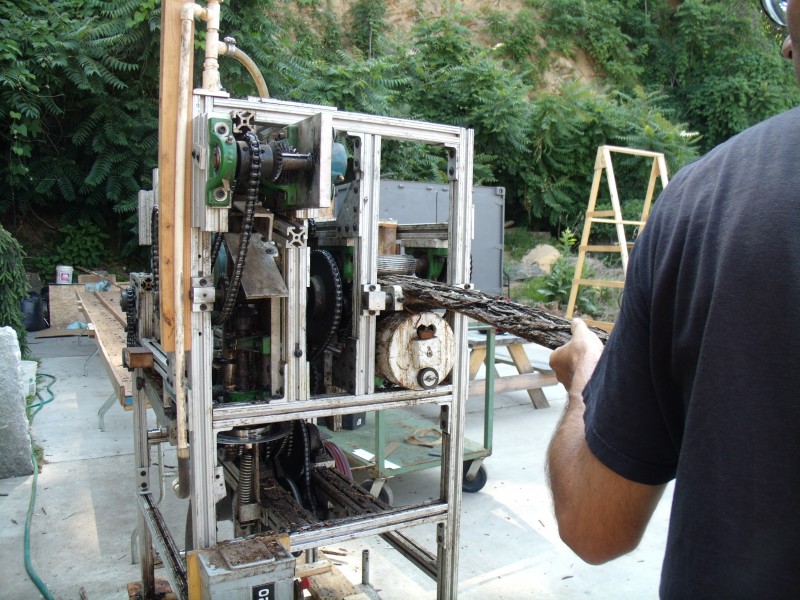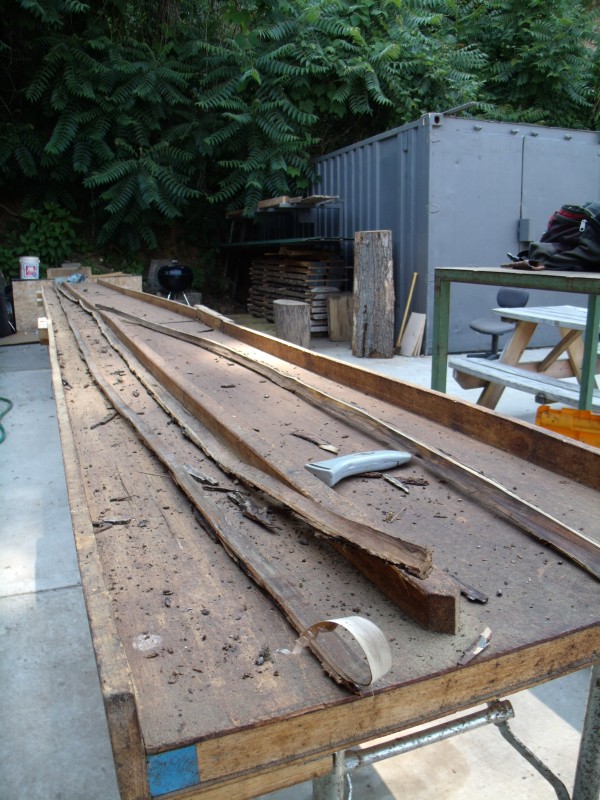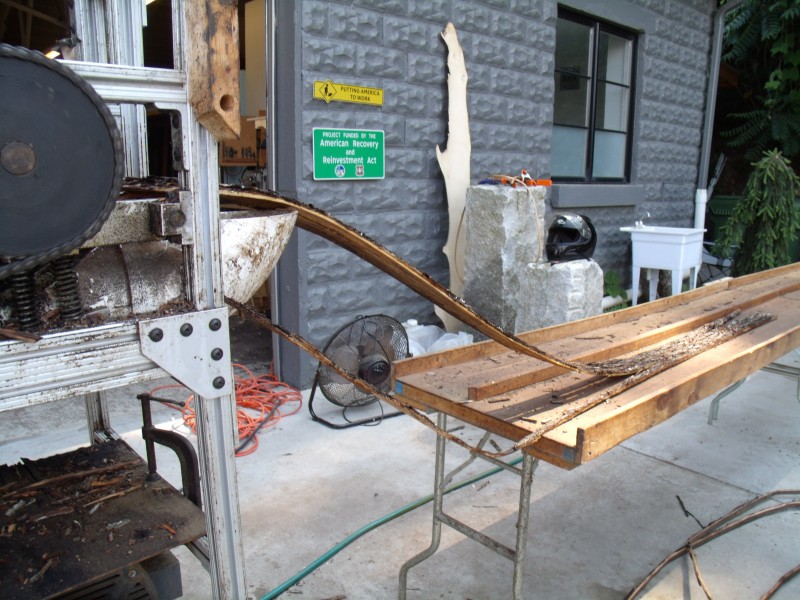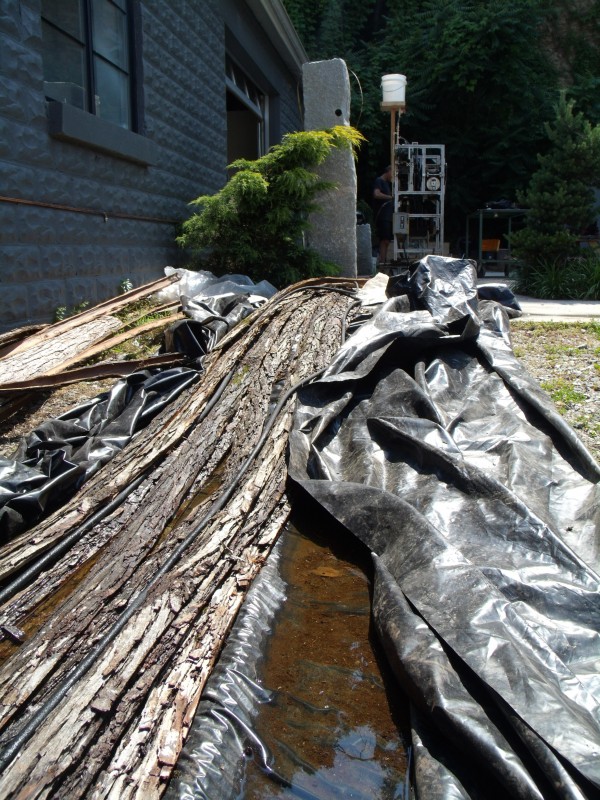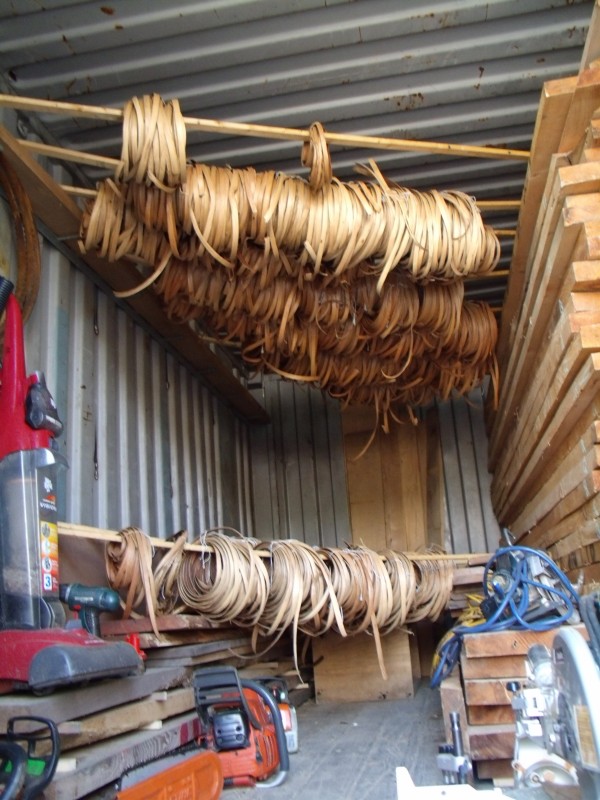 This process requires a significant amount of space. Tree-length table is obviously necessary for tree length strips.
In my previous post, I mentioned that I harassed many a chair dude to let me come watch/help process authentic bark. Brian & Melanie Boggs are so kind to me and my business and allowed me to come out one day and observe the Leviathan, Brian's invention to more efficiently process this unwieldy chair weaving material.  Robert Carran was working the Leviathan the day I came out was was super patient whilst struggling with the spinning blades and 30 ft. long heavy wet hunkin' chunks of tree.
We are talking trees, tree-length 4 inch wide strips of rough bark, wet (because it has to be pliable) being lifted just so and carefully maneuvered through dangerous machinery, uneven bits catching here or there and jamming up, the 1 inch wide 40 ft long strips fed onto a tree-sized table.  The tree-long bark strips are once again fed through the machine to be carefully wound around a reel.  I was awed by the Leviathan (and frightened of the possibility of Robert's fingers hitting me in the face after they were severed by the blades).
Just to get to this point involves felling trees on an incline then using a chain saw like a surgical tool to cut straight lines just an inch or so down (you want to use as much of the tree as possible and not damage the wood beneath). Then you take your chain saw and move 4 inches over and repeat the process.  Next you pull the 4 inch strips from the tree and keep it wet, long, and flat during transport to vehicle, from vehicle to shop and then in its holding pattern until you are ready for the Leviathan.  I still have not witnessed this process (hint hint Chair Gurus!).
The Leviathan is rather incredible.  Feeding 4 inch strips through spinning blades and getting 1 inch strips shaved down and conveniently coiled for storage until time to weave.  Let's not discount the conscientious effort and pristine care involved in sourcing a sustainable lumber service.  I am amazed at the ingenuity, the mechanical engineering, the business sense, and the creativity in problem solving that craftsmen today must employ to become chair masters!
I am so impressed with Brian Boggs Chairmakers.  And I haven't even talked about the gorgeous furniture coming out of there. The bark seats are so posh they look like leather.  You just have to go to Biltmore Village and see for yourself. They give FREE shop tours Tues-Fri at 4:00 & Saturday by appointment. Sign up for the newsletter, take a class, attend an event, buy a chair for your Mountain House.  This is impressive work.
For more information from the comfort of your computer, read a great article here:  http://wncmagazine.com/feature/arts_feature/true_to_form
Share this article...